Working Groups
YESS is currently seeking for new members for the working groups for the period April 2020-2021.
The activities of the YESS community are developed through the working groups (WGs). The WGs help strengthening the YESS community by co-developing YESS initiatives, co-organising YESS activities or by ensuring the growth of the community. Currently YESS has four WGs: the outreach WG, the online-events WG, the membership WG, and the science WG.
Being part of a YESS Working Group will enable you to further develop skills in addition to your academic career, as well as to gain experience to conduct activities on an international level and to expand your network on a global scale within the Earth system science community.
If you would like to be part of a working group – don't hesitate to contact them!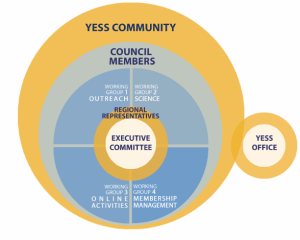 Online Events – The Online Events WG focuses on enabling early career scientists from all over the world the opportunity to participate in online training courses and seminars related to the widely understood Earth System Science (ESS). The idea behind organization of topical online events is not only to provide knowledge and expertise but also to give opportunity to exchange skills and experience. Find a few examples of online webinars previously organised here. More information or interested to join: gro.ytinummoc-sseynull@stneve-enilno.
Outreach -The Outreach WG safeguards the YESS branding and aims to ensure that YESS is presented in a unified way globally. The WG develops brochures, documents, publishes newsletters and keeps YESS active on social media (Facebook, Twitter, LinkedIn). Publishing newsletters and keeping YESS active on social media are among the group's main tasks, which provide a platform to announce and distribute relevant and interesting information within the community. Moreover, we represent YESS whenever and wherever it is suitable to advertise our community and acquire further members. More information or interested to join: gro.ytinummoc-sseynull@hcaertuo
Membership management/Website – The Membership WG deals with questions about the members and membership in the YESS community, including the registration process and questions how to get involved more actively in the community. Furthermore, the working group is responsible for the YESS website, the public content, as well as the development and maintenance. More information or interested to join: gro.ytinummoc-sseynull@pihsrebmem
Science WG – The Science WG identifies, initiates and coordinates potential scientific collaborations integrating the interdisciplinary expertise and geographical distribution of the YESS community members. Other tasks include generating ideas for writing scientific proposals and looking for possible funding agencies. The working group is relatively new and is further defining it's activities – become part of this exciting opportunity to further enhance interdisciplinary science activities among Early Career Researchers (ECRs): gro.ytinummoc-sseynull@ecneics