Working Groups
The activities of the YESS community are developed through the working groups. If you would like to be part of a working group – don't hesitate to contact them!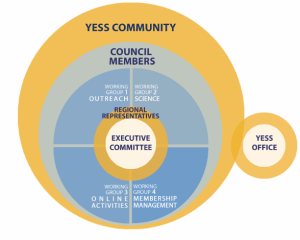 Online Events – The main scope of the Online Events working group is to enable early career scientists from all over the world the opportunity to participate in online training courses and seminars related to widely understood Earth System Science (ESS). The idea behind organization of topical online events is not only to provide knowledge and expertise but also to give opportunity to exchange skills and experience.
Outreach – The Outreach working group is your first contact address to ask questions and receive information about YESS. We aim to answer questions about "who we are" and "what we do" and provide brochures and documents to present YESS in a unified way. Publishing newsletters and keeping YESS active on social media are among the group's main tasks, which provide a platform to announce and distribute relevant and interesting information within the community. Moreover, we represent YESS whenever and wherever it is suitable to advertise our community and acquire further members.
Follow YESS on Facebook or Twitter
Membership management/Website – This working group deals with questions about the members and membership in the YESS community, including the registration process and questions how to get involved more actively in the community. The group also maintains the YESS community website.
Science WG – Coordinates potential scientific collaboration integrating the interdisciplinary expertise and geographical distribution of the YESS community members. Other tasks include generating ideas for writing scientific proposals and looking for possible funding agencies.