YESS aims to highlight the scientific contributions by early career researchers in the community to make their work more visible and to enhance scientific interactions among community members and beyond. The Science Highlights will be mainly in the form of published papers and will be posted here on a regular basis*.
Anoruo, C.M. (2021). Sub-seasonal aerosol characterization at the Middle East regions of AERONET site. Urban Climate. https://doi.org/10.1016/j.uclim.2021.100827
Arshad A, Raza MA, Zhang Y, Zhang L, Wang X, Ahmed M, Habib-ur-Rehman M (2021). Impact of Climate Warming on Cotton Growth and Yields in China and Pakistan: A Regional Perspective. Agriculture. 2021; 11(2):97. https://doi.org/10.3390/agriculture11020097
Kim Gruetzmacher, William B. Karesh, John H. Amuasi, Adnan Arshad, Andrew Farlow, Sabine Gabrysch, Jens Jetzkowitz, Susan Lieberman, Clare Palmer, Andrea S. Winkler, Chris Walzer. 2021. The Berlin principles on one health – Bridging global health and conservation. Science of The Total Environment, volume 764,142919. https://doi.org/10.1016/j.scitotenv.2020.142919
Lapides, D.A., Leclerc, C.D., Moidu, H., Dralle, D.N. and Hahm, W.J. (2021). Variability of stream extents controlled by flow regime and network hydraulic scaling. Hydrological Processes. http://dx.doi.org/10.1002/hyp.14079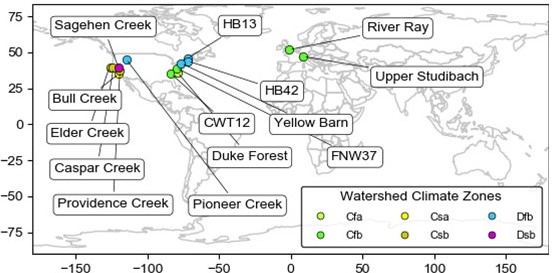 Guidelines to submit your highlight: 
You should be a YESS member.
The paper should be in the scope of interdisciplinary Earth system sciences (natural and social sciences).
You should be an author of the paper (lead or co-author).
The paper should be published within the last six months.
Citation should be in APA format + DOI.
Add a link to your YESS profile.
Add one picture or figure from your paper to feature on the website (optional).
Add your Twitter user to mention you when we advertise the Science Highlights (optional).
You can send us your entries: gro.ytinummoc-sseynull@sthgilhgih-ecneics
---
*Note that this will be a rolling list, which will be updated regularly based on incoming submissions.