YESS aims to highlight the scientific contributions by early career researchers in the community to make their work more visible and to enhance scientific interactions among community members and beyond. The Science Highlights will be mainly in the form of published papers and will be posted here on a regular basis*.
A. Benmhammed, A. Laissaoui, N. Mejjad, N. Ziad, El. Chakir, A. Benkdad, H. Ait Bouh, A. El Yahyaoui. (2020). Recent pollution records in Sidi Moussa coastal lagoon (western Morocco) inferred from sediment radiometric dating. Journal of Environmental Radioactivity. https://doi.org/10.1016/j.jenvrad.2020.106464
Bouhlassa, S., Bouhsane, N. (2019). Assessment of areal water and tillage erosion using magnetic susceptibility: the approach and its application in Moroccan watershed. Environmental Science and Pollution Research, 26, 25452–25466. https://doi.org/10.1007/s11356-019-05510-6
K. Cherif, M. Vodopivec, N. Mejjad, E. Silva, S. Simonovič, H. Boulaassal. (2020). COVID-19 Pandemic Consequences on Coastal Water Quality Using WST Sentinel-3 Data: Case of Tangier, Morocco. Water 2020, 12, 2638. https://doi.org/10.3390/w12092638
M. K. Joshi, M. Adnan Abid, F. Kucharski (2020). The role of an Indian Ocean heating dipole in the ENSO teleconnection to the North Atlantic European region in early winter during 20th century in Reanalysis and CMIP5 simulations. Journal of Climate. https://doi.org/10.1175/JCLI-D-20-0269.1
N. Mejjad, A. Laissaoui, O. El-Hammoumi, N. H. Hassen, A. Fekri, A. Benkdad, H. Amsil. (2020). Tracking natural and human impact on sediment dynamics using radiometric approach in Oualidia lagoon (Morocco). International Journal of Environmental Analytical Chemistry. https://doi.org/10.1080/03067319.2020.1782394
Sánchez-Balseca, J. and Pérez-Foguet, A. (2020). Influence of atmospheric parameters on human mortality data at different geographical levels. Science of the Total Environment, 144186. https://doi.org/10.1016/j.scitotenv.2020.144186
Vorrath, M.E., Müller, J., Rebolledo, L., Cárdenas, P., Shi, X., Esper, O., Opel, T., Geibert, W., Muñoz, P., Haas, C., Kuhn, G., Lange, C. B., Lohmann, G., & Mollenhauer, G. (2020). Sea ice dynamics in the Bransfield Strait, Antarctic Peninsula, during the past 240 years: a multi-proxy intercomparison study. Clim. Past, 16, 2459–2483. https://doi.org/10.5194/cp-16-2459-2020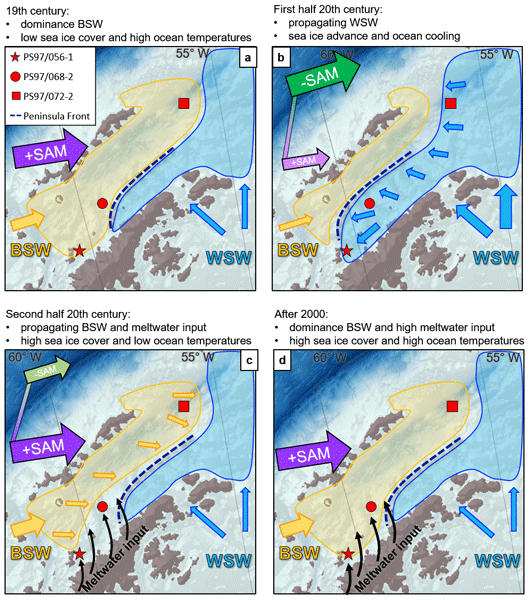 Guidelines to submit your highlight: 
You should be a YESS member.
The paper should be in the scope of interdisciplinary Earth system sciences (natural and social sciences).
You should be an author of the paper (lead or co-author).
The paper should be published within the last six months.
Citation should be in APA format + DOI.
Add a link to your YESS profile.
Add one picture or figure from your paper to feature on the website (optional).
Add your Twitter user to mention you when we advertise the Science Highlights (optional).
You can send us your entries: gro.ytinummoc-sseynull@sthgilhgih-ecneics
---
*Note that this will be a rolling list, which will be updated regularly based on incoming submissions.