Where we come from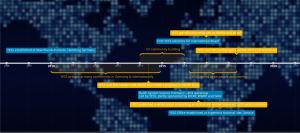 YESS was founded in Hamburg in October 2010 by PhD students from Earth system research centers across Germany. The network was established to be a bottom up network serving to enhance communication and collaborations between different graduate schools and between the multitude of diverse research institutes that define the Earth system science landscape.
It has since grown to become more international and interdisciplinary  – with a focus on interdisciplinary weather and climate science. Currently, YESS has members from all over the world, is organized by an enthusiastic team, and collaborates with several partners. YESS activities are developed by the Working Groups, Regional Representatives, Council and an Executive Committee and is assisted by the YESS office.
We are proud to be an independent network of like-minded, interdisciplinary Young Earth System Scientists – when will you join us?
Highlights from the past years
YESS is a very active community, therefore regular updates are posted in the news section and on our Facebook and Twitter. Here we list some of the Major highlights from each year. 

       2018 
2018 was an exciting year for the YESS community. 
We organised the YESS & YHS ECR Workshop "Towards Regional Information to Improve Our Understanding on Weather, Water, and Climate Extreme Events". It was held on 3-5 May 2018 at the Coast Canmore Hotel and Conference Centre in Canmore, Canada. The workshop was attended by 40 early career researchers from 23 countries, jointly held with the GEWEX Open Science Conference. More info here. 
As an outcome of the workshop we published the paper: "Three Ways Forward to Improve Regional Information for Extreme Events: An Early Career Perspective"  (https://doi.org/10.3389/fenvs.2019.00006). 
YESS has started an active partnership in 2018 with TROP ICSU ("Trans-disciplinary Research Oriented Pedagogy for Improving Climate Studies and Understanding"), which is a project funded by the International Council of Science. YESS is closely contributing to the review and dissemination of the teaching materials that are developed by the TROP-ICSU.
YESS was invited to the IPCC 30th Celebration at UNESCO to discuss the future of the IPCC and the ECR vision in this regard, more info can be found here. 
        2017
YESS reached a huge milestone in August 2017 – 1000 members in the YESS community!
Along with the YESS Community's continuous growth in 2017, came the first official YESS office. The office was established in March 2017, kindly hosted by the Argentinian National Weather Service.
YESS also held its annual elections, with a newly elected 6-person Execom and had for the first time 2 Regional Representatives for each one of the 7 regions.
The YESS paper, coming out of the ECR workshop held in 2015, 'Earth System Science Frontiers: An Early Career Perspective' (Rauser et al., 2017) was officially published in BAMS.
YESS developed a vast international representation during 2017, including presence in WCRP JSC meeting, EGU conference, WMO's "Women in Science" event, IAPSO-IAMAS-IAGA Assembly, Future Earth's Knowledge-Action Network Scoping Workshop and AGU meeting. YESS also co-organized, with APECS, the IPCC webinar "How can you  get involved in the work of the IPCC as an Early Career Scientist?" and was mentioned in several articles, such as WMO's "Present and Future Leaders in Weather, Water and Climate Science" and "Five priorities for weather and climate research".
         2016
After the YESS/WMO Earth System Science Frontiers Workshop, YESS had the first official elections in March 2016. A group of seven people were elected to be part of the first Execom and nine members became Regional Representatives of six regions globally.YESS members participated actively in co-organising the 3-day CLIVAR ECS Symposium, taking place before and after the CLIVAR open Science Conference in Qindao, China. The symposium, with 135 early-career scientists from 34 countries, aimed to capture the ideas of early career researchers on pressing science priorities, imminent challenges, and emerging opportunities to help guide the future evolution of CLIVAR. The meeting report on the CLIVAR Early Career Scientists Symposium has been published in the Nature Partners Journal Climate and Atmospheric Science in 2018 and can be found here.
YESS members were active in meetings around the world and got supported by WCRP to attend the WCRP regional scoping meeting, as well as the IPCC-PROVIA-Future Earth risks and solutions workshop. The latter meeting caused the emergence of a research project with on the role of ECRs in the IPCC process.
         2015
YESS established close contact with the research arms of the World Meteorological Organisation (WMO), the UN specialized agency for weather, climate and water. These include the World Climate Research Programme (WCRP), the World Weather Research Programme (WWRP) and the Global Atmosphere Watch (GAW).
In October YESS organized a workshop sponsored by WCRP, WWRP and GAW for 30 active members to discuss the ECRs' vision on Earth system science and to further develop and professionalize the YESS community.
         2014
During the Climate Symposium in Germany, organized by EUMETSAT and WCRP, YESS joined the development of a broad ECR program and a final statement from an ECS perspective which was presented on the last day of the conference.
YESS was also present at the World Weather Open Science Conference in Montreal. The conference brought together scientists from around the world to discuss the development of the World Weather Research Program and related projects. One key activity was the program for early career scientists, which included early career lunch breaks, where young scientists from all disciplines had the unique opportunity to meet high profile senior scientists, industry and international administration.
         2010 – 2013
YESS helped organize several conferences specifically for early career researchers, such as the Interdisciplinary Conference of Young Earth System Scientists "Understanding and Interpreting Uncertainty" (ICYESS). The conference brought together scientists from various disciplines contributing to the understanding of processes and interactions in the Earth system. This conference addressed natural, social and political sciences, economics, and sustainability research (for details see the Report).
Two further workshops were organized by YESS both nearby Hamburg, Germany. The first one was held in 2012, where 18 YESS members from a variety of institutions (MPIMet, CSC, University of Hamburg, PIK, LMD, LSCE and MPIWG) discussed one pivotal question: the role and importance of communication of Earth System Science (news article). The second workshop took place in 2014 and was focused on two topics. The "Earth System Science Science questionnaire", developed during the first workshop, was applied and evaluated. Using this questionnaire, a common terminology was developed, unifying different notions for uncertainties used in different fields in climate science. We came up with a first version of a glossary: 'YESS: Earth System Science uncertainty concepts, figures, and glossary' (news article).
Besides these major events, several smaller seminars were held in the YESS context, on diverse topics ranging from job opportunities in Earth system science to environmental model development. YESS was also present at the EGU, AGU, IUGG conferences and organized a variety of informal activities with YESS members.