HOTTER,         DRIER,         WETTER,       FACE THE FUTURE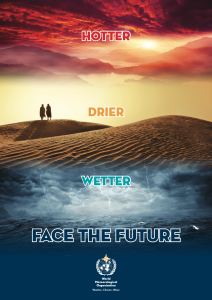 At the 23th of March the World Meteorological Day will take place. This annually United Nation's Holiday is held to remember the World Meteorological Organization's (WMO) establishment on that date in 1950 and to raise awareness on important issues in the field of weather and climate. This years' theme will be 'Hotter, Drier, Wetter, Face the Future' – attention is asked for our changing climate and the resulting impacts.
For this special day, there will be a big event at the WMO headquarters in Geneva, Switzerland…. and YESS is part of their programme!
YESS got the opportunity to give a presentation about their activities and about the early career scientist perspective on the frontiers of earth system science.
We are very much looking forward to share our ideas with the WMO-community!
The detailed programme.
Further information on the World Meteorological Day.