David Carlson – 1st Honorary YESS member
It is with deep regret that we learned that dr. David Carlson has resigned from his position as Director of the World Climate Research Programme. We, the YESS council, are extremely grateful for the valuable support he provided to the YESS community over the last three years.
Unquestionably early careers scientists can state that David is an exceptional advocate and mentor for the next-generation of researchers, recognizing their potential and continuously fostering them to become future leaders in science to ensure the sustainability of the research community. David is, and has been, always ready to talk and to interact with researchers in the early stages of their careers, inspiring them to participate in, contribute to and develop their view on the broad field of Earth system science.
From the very beginning when YESS approached David, he promoted international growth and inspired us to aim high. Dave challenged YESS to get 20 early career scientists from 20 countries and 20 different disciplines together for a workshop to illustrate the internationality and interdisciplinarity of YESS. We accepted the challenge and held a very inspiring and productive workshop in Offenbach in 2015, supported by the three WMO research programmes. David's full attendance at this workshop demonstrated his sincere support and dedication to the younger generation to foster the future of Earth system science. We sincerely appreciated his continuous guidance and advice, during and also after the workshop, while simultaneously letting YESS be mainly shaped by us. YESS has developed into a truly international structure and grown tremendously, reaching over 900 members from over 85 countries now. We created solid connections, through official support and endorsements, to WCRP as well as with the WMO research arms. This is truly amazing. Without David's extraordinary support, YESS would not be at the point where we are now.
It is great to have such a mentor and source of inspiration. We know that David is not at the typical career stage to be a YESS member; but for this special occasion we wished to thank him by offering him the very first 'Honorary YESS Member Certificate'.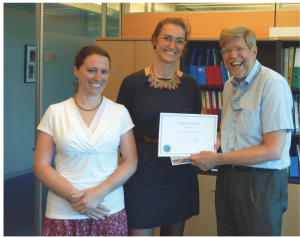 David, we wish you all the best in your future endeavours and we will sorely miss you.